What do you mean 'Pre-Recession'?
After the year 2000, but before the economic recession of 2008, GM was making some weird cars. Retro styled cars, cars with high performance trims (for seemingly no reason), cars with LS motors mounted sideways, and of course, Saabs.
Why these cars came about is complex. If somebody is willing to offer a theory, I'm all ears. However, I'm not here to explore the roots of this issue, only what fruit it ended up bearing. While many of these cars may have continued production after the recession of 2008-2010, most if not all were born of the white heat of stupidity that lost GM $82 billion before this time. I say stupidity of course, because most of the following vehicles I would like to own one day.
GMC and Chevy Trucks with 'Quadrasteer'
Quadrasteer was a rear-steering system developed by Delphi Automotive Systems, a subsidiary of GM. It was called 'quadrasteer' because, you guessed it, all four wheels were steerable at once.
Available on the '02-'05 Chevy Suburban / GMC Yukon XL & Chevy Silverado / GMC Sierra, the system greatly reduced the turning circle of the long trucks. 
The system worked via a series of microprocessors that would asses the driving situation, and then turn the rear wheels via an electric steering rack. At slow speeds, like in a parking lot, it would turn the rear wheels in the opposite direction of the fronts, reducing the turning radius. At highway speeds, it would turn the rear wheels in the same direction as the fronts, making the big trucks more maneuverable and less prone to rolling over. The most it would actually ever steer the rear wheels was something like fifteen degrees.
The option was primarily aimed at people who tow frequently. Having rear steering makes driving with a trailer much easier, as it allows for the vehicle-trailer combo to take tighter turns (in a nutshell).
The Quadrasteer trucks were also equipped with some manner of adjustable rear suspension, which you could tighten up when you were towing a heavy load, further increasing the truck's stability at speed. I'm not sure how these shocks worked, if they were magnetic, or had a type of internal valve adjustment. There's very little information about them online.
The Vortec 8100 / L18
The Vortec 8100 was a naturally aspirated, 8.1 liter big block V8 introduced as an option in 2001 on full-sized trucks, vans, RVs, and SUVs. Also popular as an engine in boats, the Vortec 8100 was marketed as an alternative to GM's Duramax diesel engine. This motor had a cast iron block, and cast iron heads. This gave it a gross weight of… 761 pounds. At the time, it was competing with Dodge's 8.0 liter V10, and Ford's 6.8 liter V10.
In stock guise, the engine had 9.1:1 compression and only 340 horsepower due to torque-optimizing truck heads. Speaking of torque, it made 450 ft/lbs at 3300 RPMs. 
Pickup trucks equipped with this engine get around nine miles per gallon. For this reason (among others), the engine was discontinued in 2009. 
Unusual Vehicles That Came Northstar-Equipped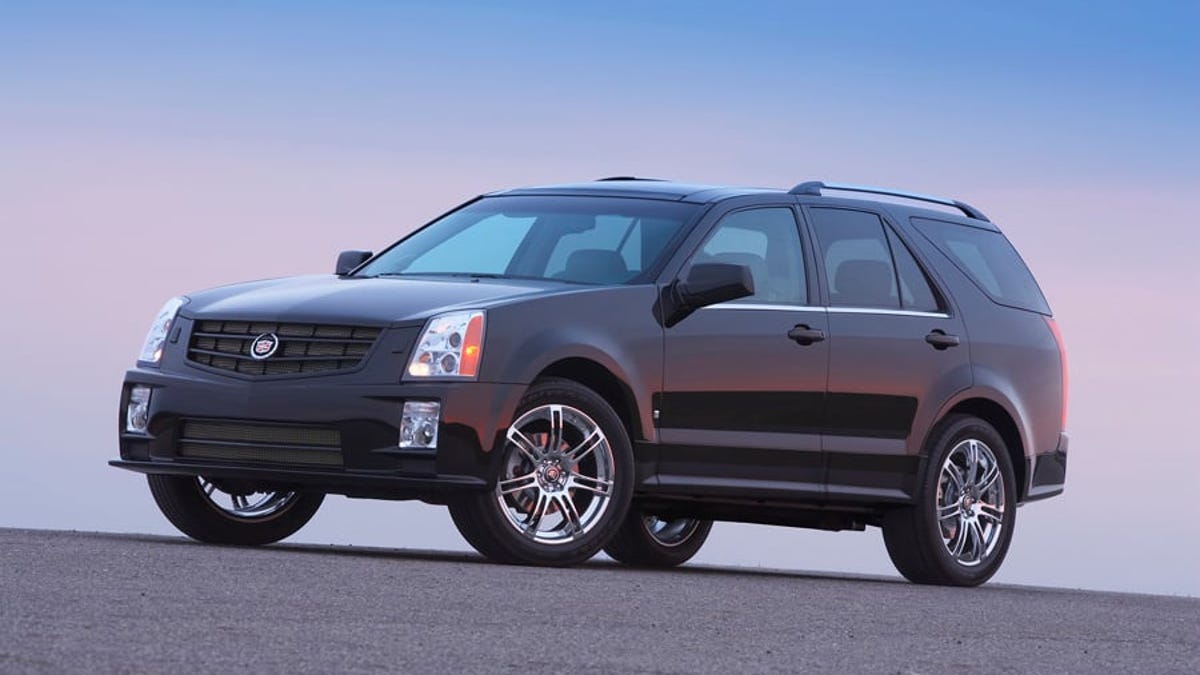 The first generation SRX ('04-'09), was available with the 4.6 liter, 320 horsepower Northstar V8 engine. Strange for a mid-sized crossover. It could also be had with magnetic shocks. It was available in either RWD or AWD.
The Buick Lucerne sedan could also be had with a 4.6 liter Northstar from '06-'11. Really, it's like a successor to the Buick Lacrosse Super. I say this because it is front-wheel-drive, just like the LS4 equipped cars were. You still get four 'Ventiports', and it makes about the same power, too (275-292 horsepower). It's also called the Lucerne Super, so there's that.
The tenth and final generation Pontiac Bonneville GXP (yes, they made a GXP) was also available with a 4.6 liter Northstar, albeit only producing 275 horsepower. A four speed automatic transmission was the only option. A modified version of this car set a FWD speed record at the Bonneville salt flats at 204 mph.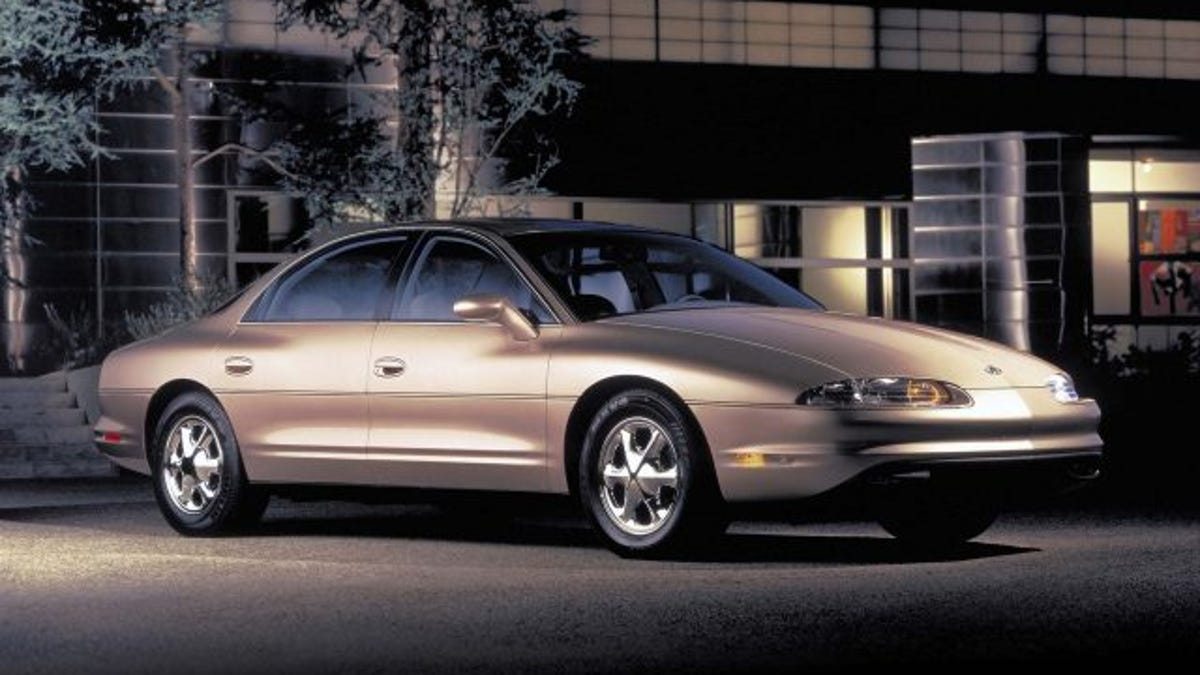 Both generations of the Oldsmobile Aurora ('95-'99 and '01-'03) (the first generation definitely looks the best) were also available with a FWD Northstar. It was the smallest eight-cylinder Northstar at 4.0 liters. It made 250 horsepower, and was strictly backed up by a four-speed auto. This transmission could not be shifted manually, but had two ferocity settings called 'Normal' and 'Power'. At the time this car was released, it was well-regarded for its nice ride, excellent build quality, and refined engine. Its body structure is also apparently extremely rigid.
Just look at that shifter. Looks like a beige leather Gumby.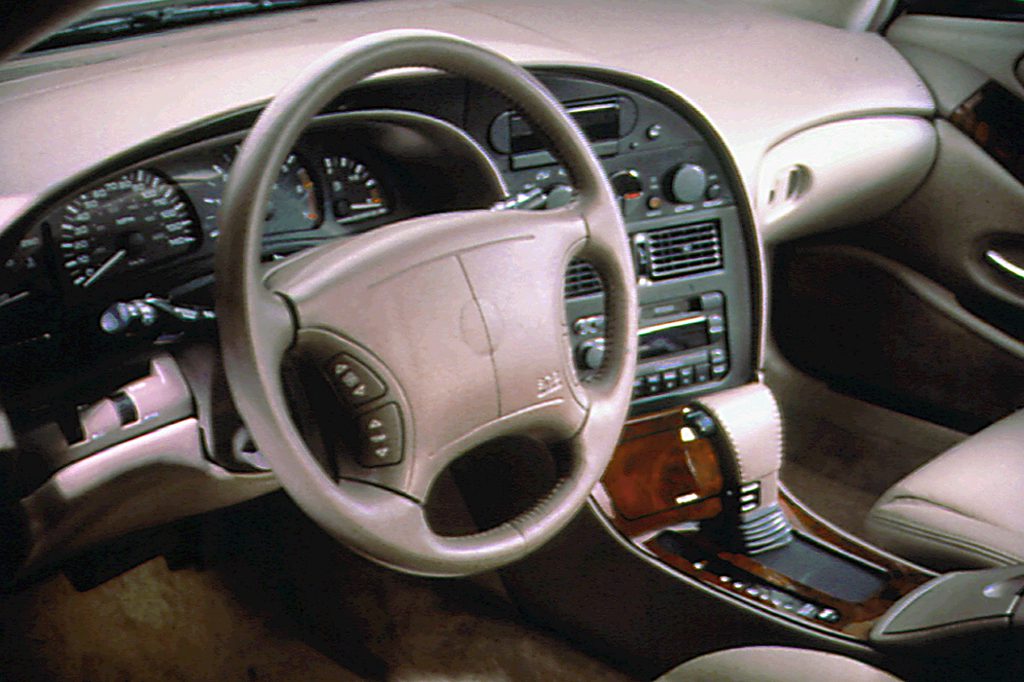 A highly modified (still 4.0 liter) twin-turbocharged version of this engine was used in a racecar spec of the Aurora for the Indy Racing League and IMSA. It made 650 horsepower. The engine is cool, but the car (The Aurora GTS-1) looks absolutely amazing. It has a big wing, shoots flames, and has gold wheels. It won first in its class at the '96 24 hours of Daytona. This great picture of it was taken by reddit user /u/robwoodham.
Never thought my new wallpaper would be an Oldsmobile Aurora.
Chevy Colorado Xtreme
The '03-'12 Colorado is on the GMT355 platform, and shares its basic architecture with five other cars. The Colorado Xtreme is like the SS version of the Colorado, but its called the 'Xtreme'. What is it with marketers removing vowels from buzzwordy names? Why the fuck is 'Activ' a thing? 
The Colorado Xtreme gets different front and rear bumpers, new side skirts, some fender flares, a different grille, altered headlights, and 18 inch wheels. 
Mechanically, the car's suspension was lowered and stiffened up a little bit. This generation Colorado was available with a series of engines (including a 2.5 liter 4cyl, a 3.5 liter 5cyl, and a 5.3 liter V8), but as far as I know the Xtreme package didn't specify any particular one that you had to get. 
You could get this trim on any body-style of the Colorado, so you could have it on the regular, extended, or crew cabs. 
Tahoe / Silverado / Suburban Hybrid
Most of you probably know they made a Hybrid version of the Tahoe and Suburban. They also made a Hybrid version of the Silverado pickup. Launched in 2004, It was GM's first hybrid passenger car. Really, this system seems pretty useless. It sounds like a sort of very aggressive start-stop. Interestingly however, the Hybrid Silverados were equipped with four regular 120v outlets (two under the rear seats and two in the bed). Construction crews apparently liked that kind of thing.
The pickup was discontinued in 2008, and according to Wikipedia, replaced with a new version on the GMT900 platform that had a CVT. This truck apparently sold very poorly, and sounds like an engineering nightmare.
"On its own, the V8 is rated at 332 horsepower and 367 pound-feet of torque. GM engineers say that combined output with the electric motors is 379 hp. The unique transmission houses the electric motors along with three different planetary gear sets and four traditional clutches" (Wikipedia).
As far as the Tahoe goes, Daddy Doug did a video about this car that's really gonna do a better job of explaining them than I am. I recommend you watch it.
They also made a hybrid version of the Escalade, and a pickup truck version of the Escalade, called the EXT. I don't think they made a hybrid Escalade pickup, though. What a shame.
Silverado SS & VHO / Vortec Max package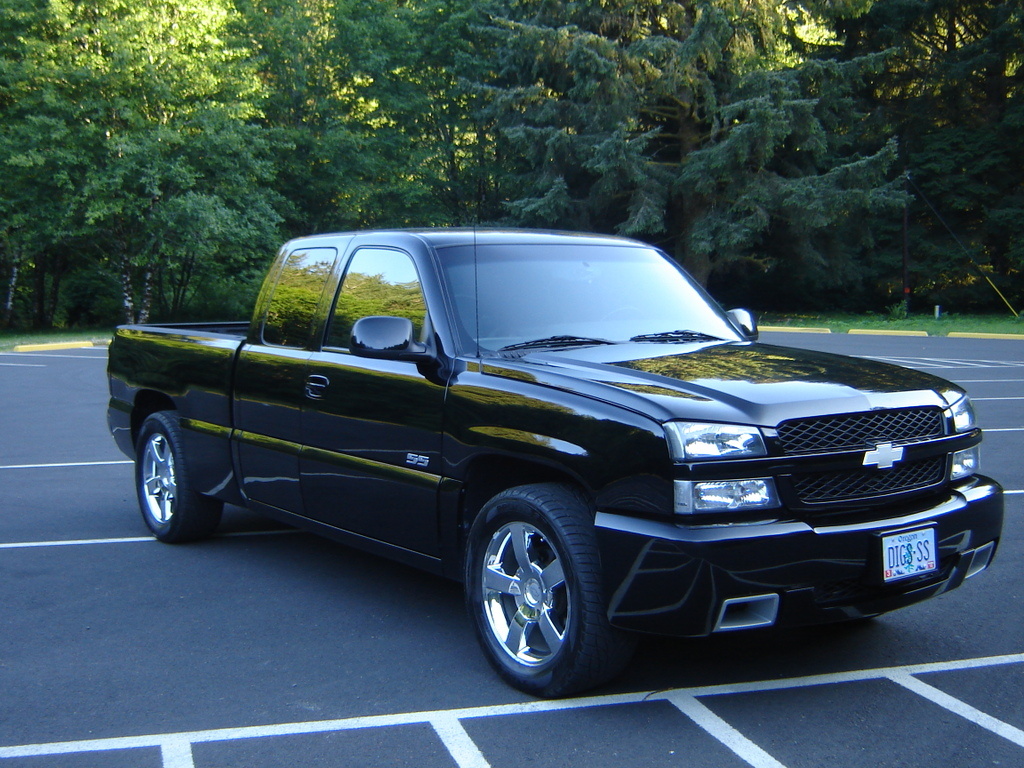 The Chevy Silverado SS visually looks like a mix between the Trailblazer SS and the Colorado Xtreme. Launched in 2003, It is based on the 1500 Silverado Extended Cab. It was equipped with the 6.0 liter LQ9, backed up by a four speed auto. AWD was initially standard, as was a 4.10:1 final drive and four wheel disc brakes. In 2005 a RWD version became available, but this version ditched the rear discs for drums. After 2006, the RWD version was the only one offered. Buyers could also choose a cloth interior and/or a bench seat. Lowered suspension was standard, as were 20 inch alloy wheels. All the SS trucks, both RWD and AWD, used torsion bar style front suspension. 
They also made a Silverado SS 'Intimidator', to honor the late Dale Earnhardt. It had different badging, a subtle rear spoiler, and some slightly different upholstery. According to a period piece by trucktrend.com, "It will include a lowered ride height, performance suspension, two-stage multi-leaf springs, Tenneco shocks, a stiffer front stabilizer bar and harder front jounce bumpers. It will also be rear wheel drive with a 3.73 locking rear differential."
It was only available in black.
The VHO and Vortec Max packages are a total rabbit hole to research. First of all, they are not necessarily the same thing, however I don't know why they had to rename what are essentially to reasonably similar performance / aesthetic packages for the Chevy Silverado / GMC Sierra. These two packages are essentially 1/2 ton trucks with 3/4 ton suspension and brakes, with a bigger engine & beefier transmission. They were primarily intended for towing / hauling. 
The Vortex High Output (VHO) package became available in Texas and other surrounding areas in 2004. The single biggest change from the regular trucks was the 6.0 liter LQ9 V8 This engine was shared with several other trucks, including the Silverado SS. VHO equipped trucks also got the Z60 High Performance suspension package, 4L65E transmission (four speed auto), and a 3.73:1 locking rear diff. Aesthetically, you got new chrome 20in wheels. This package could only be had on extended cab standard box 2WD trucks, and lasted until 2005.
In 2006, it was replaced the the Vortec Max package. It could now be had in 4WD, got different suspension than the VHO, and could be had with a 4.10 rear gear. There were a few other changes as well, but none major. It lasted until 2007. If you would like to read more about these confusing trucks, the Silverado Wikipedia page is a great place to start. 
https://en.wikipedia.org/wiki/Chevrolet_Silverado
 '00-'04 Cadillac Deville DTS' Equipped with Night Vision
People like to shit on Cadillacs from this era, but the truth is that any issues with interior fit and finish were more than compensated by the technology they got. GM invented magnetic shocks, and a lot of the first cars to get them were Cadillacs. That must've hurt for a *SPORTY* European brand when they had to license the technology from… Cadillac. Makes me smile thinking about it. Anyway, they were also the first cars to ever receive a night vision system. 
That's right, night vision. The system utilized an infrared sensor behind the grille, which relayed data back to the vehicles heads-up-display. You got a black and white 'thermal' image, in your Cadillac, on your HUD, in the year 2000. The system was co-developed with Raytheon (the defense contractor) and lasted until 2004 when it was discontinued. 
Here's a period television advertisement for the system.
Pontiac G8 GT and GXP
The Pontiac G8 is like the GTO, as it was a re-badged Australian import. More specifically, a Holden Commodore. They're a reasonably big and comfortable RWD sedan. It was for sale in the states from 2008-2009. 
The base model has a 3.6 liter V6 and it's automatic only. We do not care about it. However, here's a funny story from /u/frosty95 on Reddit concerning a V6 edition of one of these cars:
"I remember a guy scheduled a tune for his G8. Super stoked about getting headers and exhaust for it plus a cold air intake. I had my generic "bolt ons" G8 base map ready to go. I walk outside and shake his hand. Dude is stoked. I plug in and pull the bin and try to apply my base map…. Then… Wait… Wtf. Nothing matches. Errors. Wtf. Osid is wrong? Then I see it. The injector scaling table only has 6 injectors. Oh. Oh no. Wtf. "Is this a V6? I tried to not let on my confusion / disappointment but he definitely knew."
The next trim up was the G8 GT, and it came with a 6.0 liter, fourth gen LS. It had about 360 horsepower, but still no manual transmission. On the outside, it looked a little different. It got clear (as opposed to red) taillight lenses, and quad exhaust tips. You could also get a fresh set of 19s.
The top dog was the G8 GXP. It recieved a 6.2 liter V8 out of the Corvette (the LS3), and finally; a six-speed manual transmission. This meant 415 horsepower and 415 ft/lbs of torque. It could reach sixty miles-per-hour in just 4.5 seconds, and complete a quarter in 13 seconds. It got GM's FE3 sport suspension, and big Brembo brakes. These brakes were definitely necessary, as the G8 weighed very near 4000 pounds. It of course got its own unique front and rear fascias, twin-scoop hood, and wheels.
If you're gonna get this car, I would say get the GXP. However, they only made about 1,800 of them, with 846 being stick. So uhh… good luck. There is one stick GXP for sale on Autotrader for around $19k, with 135k miles on it. Other cleaner examples go for upwards of $30k, even without a stick. Most of them are between $20k and $30k.
There was also some speculation that a 'Ute' (ElCamino car-style pickup) version would be imported. The thing actually showed up at the 2008 NY auto show, but was never sent to the United States. It looked like this.
There was also speculation they would release a wagon version, because they already made a wagon variant of the Commodore in Australia. 
This never happened either, but Holden apparently swapped the fascias of a few of these cars for a special edition (minus the Pontiac badge), so we at least know what it would have looked like.
You also have Bob Lutz to thank for this car, just like the GTO.
GMC Envoy XUV
The Envoy XUV perhaps deserved it's own article, but honestly, it's really dumb, really boring, and it looks like shit. So I didn't want to write it. I'll struggle through a short description here.
This 'truck' seems very similar to the Studebaker Lark Wagonaire from 1963-1966.
I'm gonna climb up onto my niche car knowledge high horse right now. Wow! I can barely see you guys down there! 
The Wagonaire had a very similar arrangement to the XUV. A big sliding panel could telescope into the front area of the roof. This essentially provided the same functionality as the Envoy, and it also leaked like a colander. 
The Envoy XUV's whole shtick was that you could put tall shit in the back of your Envoy–like you could in a pickup truck. Stuff like… I don't know… Ladders, grandfather clocks, a ficus–I don't get it. Why not just fold down the rear seats? Unless you have like, a big tetris-style L shaped refrigerator box, this whole idea is pretty stupid! There's a reason why only one other car did this. GM expected to sell a lot of these–like thirty thousand a year. They sold more like 28 thousand *total* after a brief 18 months in production. 
Hummer H3
The Hummer H3 shared a platform with the Colorado. You could also get a pickup version of the H3 called the H3T. Both of these cars could be had with a 5.3 liter V8, or a 3.5-3.7 liter, five cylinder Atlas engine, making around 220-240 horsepower. The five cylinder could be had with–get this–a five speed stick shift.
So yes. You could have a 240 horsepower, five speed, five cylinder Hummer H3 that weighed at least 4600 pounds. Thanks GM!
Pontiac GTO / Holden Monaro / Cadillac Catera
The Holden Monaro-based Pontiac GTO was actually a great car. They're still popular today in and out of muscle car circles. They could be had with either a 5.7 liter LS1 (350hp), or a 6.0 liter LS2 from the Corvette (400hp). A stick shift was optional, they were rear-wheel-drive, and they were quick as all hell. 
They were brought to the states as a Pontiac after the Holden-badged version received great praise from auto journalists when they drove it in Australia. Bob Lutz fought the good fight and got them imported over here so we could enjoy it.
The GTO in the states weighed about 3800 pounds due to its big V8 and sturdy suspension. It has four-wheel disc brakes, and independent rear suspension. The seats in all of these cars are apparently very good. They also pull .88g on a skidpad , and magazines at the time described them as soft, but good handling cars. They imported about 41k, and prices today are reasonable. Nice ones can be had for around $15k or less.
I recommend reading the Wikipedia article concerning these cars, as its well done, and contains every detail you would ever want to know about them. Here's a link to that.
https://en.wikipedia.org/wiki/Pontiac_GTO
I included the Cadillac Catera because everyone forgot about it and it's on the same basic platform. It was actually just a re-badged Opel. Very sad car to look at, and drive. The only available engine was a 200hp 3.0 liter V6, and the only transmission was a four-speed auto. The last one was made in 2001, so it's just barely in my pre-recession threshold. Here's an fever-dream ad from the time it was released.
A Saab 9-3 SportCombi Rabbit Hole
The 9-3 SportCombi is the wagon version of the 9-3 sedan. There were two different styles of front fascia for this car. The version I'm going to focus on is the final one, made from 2008-2009.
I found myself in this rabbit hole because I was going to combine the 9-2X article with a 9-3x Sportcombi article. I knew they made a 9-3x SportCombi Aero with AWD, which had an identicle 0-60 time as the 9-2X. For all intents and purposes, I think the same type of person would be looking to buy either of these cars–I could see people today cross-shopping them. I thought it would be a cool thing to do, however I ran into a conundrum. 
Now, all of the following production numbers come from 'esaabparts.com', so don't come after me if my counts are not to your liking.
They made 2,060 9-3 Aero SportCombi wagons, but only 356 were AWD. It's complicated, too. Besides the regular Aeros, of which there are 221, they made the "Turbo X" cars.
I had previously stated that these were just black 9-3, AWD Aeros with a special badge, however that isn't entirely true. According to Reddit user /u/ajjyt, "The Turbo X had a few other exclusive touches, including an orange turbo gauge needle like the 900 SPG, premium leather seats, premium steering wheel, a custom welcome message on the Saab Information Display in the speedometer, special wheels, special exhaust, special front fascia (including special grilles and front lip) and more. Performance-wise, it came with an eLSD, which the rest of the 2008 Aero cars did NOT come with. The eLSD was an option on the 2009 cars. They made 45 Turbo X SportCombis with a stick in 2008"
These cars are apparently much more desirable than the standard Aeros.
They made 135 AWD wagons in the "Turbo X" guise. That means we have 356 cars of near identical spec, besides the transmissions, colors, etc. Of those 356, there are 90 available in stick (these 90 are the ones I was looking for).
My new mission was finding one of these 90 SportCombi, six cylinder, AWD wagons with a 6spd stick. It's essentially a Saab 9-2X Aero, just much rarer and more niche.
Even finding automatic versions of this car was difficult. I found only one on Cargurus.

Frustrated, I broadened my search to ANY manual, AWD Sportcombi Saab (they also made the non-Aero 2.0T). This made me realize that, actually, the most uncommon version was the 2.0T stick, at just 76 total (so there's a total of 166 AWD stick SportCombis). Well I looked and looked, and only found sold ones. I think everyone who knows what this car is snaps them up as soon as they come up for sale. Besides the automatic Aero I found, I located two 2.0T AWD wagons with automatic transmissions.
Home
https://www.haleyauto.com/used-Midlothian-2009-Saab-9+3-20T+XWD-YS3FB52YX91019725
Just get the 9-2X. I wasted my life looking for these cars. 
Saturn Astra
The Saturn Astra was a re-badged Opel Astra, and it was imported in the United States in 2008 to replace the Ion. Available with just one engine, a 1.8 liter four cylinder with 138 horsepower, it was pretty bad. Transmission options included a five-speed stick or four-speed auto. The version pictured is the five-door, but they also came in a three-door that didn't look half bad.
Doug DeMuro wrote a somewhat interesting article about them three years ago on Autotrader's Oversteer. Apparently Doug used to be a Saturn Salesman.
https://www.autotrader.com/car-news/saturn-astra-was-coolest-saturn-ever-256138
He claims it's the coolest Saturn ever, but that's just plainly not true. How could this hold a candle to the mighty LSJ-powered Ion redline? The interior on this car is truly dismal.
Looks like somebody spray painted some clamshell packaging silver and glued Oreos to it. Everything I read about this car anywhere says it's a total piece. Parts are apparently very scarce, so you can get them for absolutely nothing. I wouldn't if I were you.
A Reddit user totally just dropped shoulder on me for saying this car wasn't nice–I'll backpedal a little to say that this car wasn't nice compared to the competition. It seems like the Opel version in Europe was much nicer than the Saturn version. 
Conclusion
The best part of this series was hearing the stories in the comments, and the feedback you gave me concerning the many assumptions I had to make. The threads are really a wealth of information concerning the cars themselves, and the human side of them.
I recommend anyone interested in this era of vehicles from General Motors (and why they went bankrupt) either read or listen to Bob Lutz's book Car Guys vs Bean Counters. Lutz was GM's chairman at the time. He spends some portions of the book patting himself on the back, and other portions disputing the merits of climate change. At other times, he's extremely critical of the media, and the left wing in general. That being said, he also has a good sense of humor, a genuine care and interest for cars, and he has a unique behind-the-scenes perspective on the whole situation. He's the sole reason why we got the Solstice, GTO, and G8 to name a few examples. There's a lot of great stories in the book I'm sure you would all be glad to hear. I recommend getting the audiobook. The narration is good and I listened to it while I was driving.
If you would like to read more of these sorts of stories– I'm open to writing more, It's just tough for me to justify without being compensated. That however, does not mean you have to pay anything for them. Send a tip to somebody like Jalopnik or elsewhere, and they may give me a little cash to contribute pieces like this (with a little luck). The only reason I could do these posts in the first place was because I'm on break before my final semester of college.
Anybody who gave me encouraging or kind words I thank. In fact, I thank you very much. It made writing these a lot easier, and the thought that I could sit down and write something people actually look forward to is still a concept I am unfamiliar with. I apologize to anyone who thanked me for writing these posts and didn't get a response. 
I will be backing up the final versions of these articles on my personal blog, peterholderith.com. They will be corrected with all of the feedback you guys gave me, and I will likely add in a few stories you guys had to tell, with credit to your username. They will also have regular images instead of the annoying little formatted links I had to make when I translated the posts onto reddit. This will be done before I go back to school around the 5th, but probably sooner.
These posts may be over, but I still write the car satire site bald.tires as well. Me and the great people who write with me try to put stuff out three times a week, and we usually succeed. If you enjoyed the humor component of these articles, I suggested you either follow @_baldtires on Twitter, or just subscribe via email on the site itself. Twitter is really the best place to get updates about this sort of thing when it happens.
Happy Holidays,
Peter